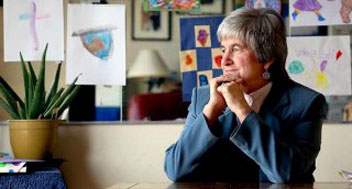 After a lifetime of faithful service, Rev. Jane Adams Spahr was called out of retirement to face a church court. The charge against Rev. Spahr was that she had performed marriages for couples of the same gender. In other words, the "crime" of Rev. Spahr was showing grace to people that the church would shun.
This weekend she will reach the end of her appeal process in San Antonio, Texas. Finally, a verdict will be reached on a trial that has lasted years. When she was convicted at a regional hearing in California, the judicial panel had an interesting comment. They said Rev. Spahr did what Jesus would have done, but until the church changes its stand on homosexuality they had no choice but to convict her.
Being in the room at the time, I was filled with shame for my denomination. They had publically admitted that they considered the teachings of Jesus as having less authority than the rules of our denomination.
I cannot guess what the verdict will be this weekend, but I do know that Janie Spahr is no longer on trial. When the courts determined that she was following Jesus, and that the church itself did not have the courage to follow as well, Janie Spahr was for all intents and purposes ruled innocent. At this point, it is we, the Presbyterian Church, who stand trial.